Gift For Malay Wedding Couple
Big Head Little Body Portrait drawing, where head exactly draw in portrait form, and head size much more bigger than body size. Somehow people called it Cute. Or somehow people called it Cartoon. Whatever, me called it here Big Head Little Body Portrait — draw by Portrait Artist Malaysia, Triton Lim.
Big Head Little Body Portrait, for me, I get a lot of influences from Sam Hui Hong Kong Star Movie Poster, back to 70s, 80s. I'm still small. One thing I recognized from the poster, is fun to watch. A kind of imagination, flying at your mind. Nevertheless, people all love it.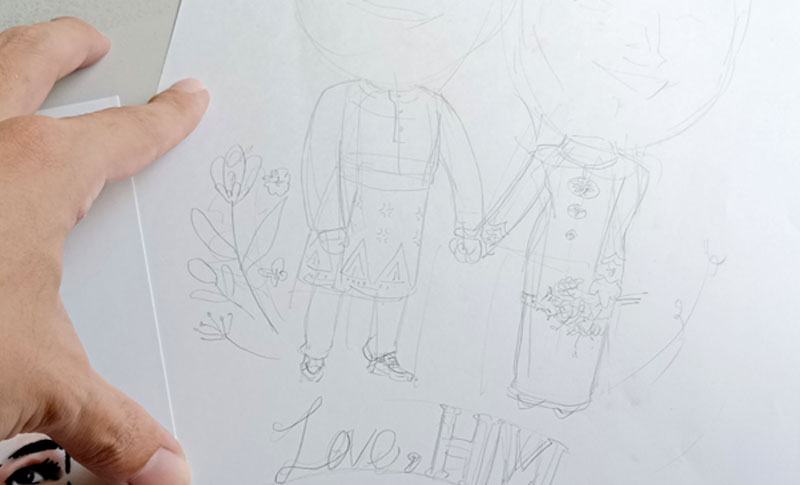 A Little Details That Hardly Seen
Sarung that I giving him a simple textile design. While lady Baju Kurung I giving him a nice simple modern motif. Tudung there is simple texture design at the edge too. Background deco, just as simple floral and flower.
Sweet Moment of Wedding Couple
Big Head Little Body Portrait drawing, great for gift present. Especially when come to specific occasion. Liked this wedding couple. Just simple and fun, memorable for keeping. Is kind of cute compare to real portrait studio photo ya.
Spending money asking customize from artist is great. But the most great moment, is where you yourself can draw it with your own hand. No matter perfect or not, it is representing whatever you are. That's why I already have few product, is for those who like to draw by themselves.
Preparing for delivery out.
大头版肖像画
大头大头、Q版可爱的大头肖像画、头大小身躯,一般大众的认知。
在70、80年代,其实香港许冠杰电影海报,多数采用了大头版肖像方式。可爱生动有趣。脑海记忆里,我小时候看见觉得蛮可爱有趣,一连串想象力在腾飞。也许恰恰让票房更加卖座的原因。这深深的记忆,也许让我在艺术这一块有比较容易上手的一环吧。
也因为这COVID期间的因素考量,我才决定推出这个大头肖像产品。虽然前10年我坚持似颜绘。不过万万没想到会有今天变化。