Screen printing emulsion is a light-sensitive liquid that make your image into negative. I really don't know how to work, for the newbie, at that time. Easy get frustrated and almost give up.
Photo Emulsion similar to Negative.
When you explore to silkscreen ink, it can be really messy and easy get wet on hand. Somehow it can be easy get dry, get hard, then the ink can't be use anymore.
Some silkscreen ink, is chemistry smelly. Some hard to wash off from hand. Some is not eco-friendly. These all you got to take a serious consideration during screen print a project. Choose wisely the silkscreen ink. Ours local Malaysia silkscreen ink product, I couldn't found one that is suitable for newbie, eco-friendly and easy to use yet.
Silkscreen Ink easy get dry.
What is the Best timing for image exposed?
At that time, I only refer to Youtube, most of the time. I asked Supplier and Silkscreen owner, how does this work. But somehow due different country different product using, so everything come out with different result. It is really frustrated during that time.
"How..how..how..What to do…?"
Lighting no enough bright, photo emulsion burned. Time exposing too short, or too long, photo emulsion get burned. I tried so many time. I so doubt to myself. Who can help me.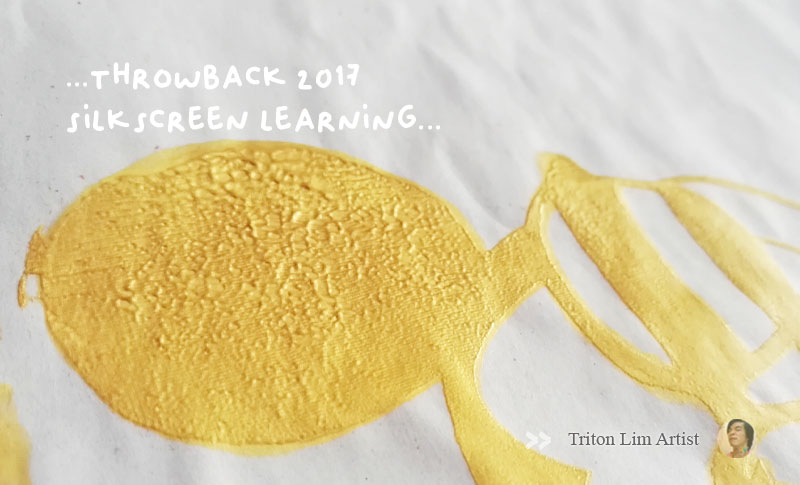 Silkscreen Ink look like.
本地有几家有卖丝网印刷感光乳剂,各个牌子品质有差异。
曝光是门学问。冲洗也是门学问。你会好奇怎么普通水压的水冲洗不到,还是要冷水热水呢?种种疑问冒出来。当时解决方式,尝试好多也。你会感觉心灰。怎么办好,弄不出来一个图样。
整个过程,是很胆怯的,担心很多的,找不到人指点,很多未知数,也是在试验阶段。好恐怖也。毕竟我不是这方面的专才。很多东西要试。马来西亚绢印个人体验版,路途坎坷多多。