Silkscreen Table Malaysia?
Throwback 2017, after few classes, I started look for ScreenPrint material around KL Selangor. I search anyway. I went to Rawang, just look for silkscreen table. I went to Sg Buloh Industry just look for silkscreen table. I make a few call to Seremban, asking silkscreen table. Eventually turn up nothing.
I could say that majority there are welding by local people. Does it User Friendly? Not at all. Easy to get? Not at all. Malaysia don't have a proper silkscreen table for newbie. We don't have manufacturer, we don't have exhibitor took part in ScreenPrint fair even.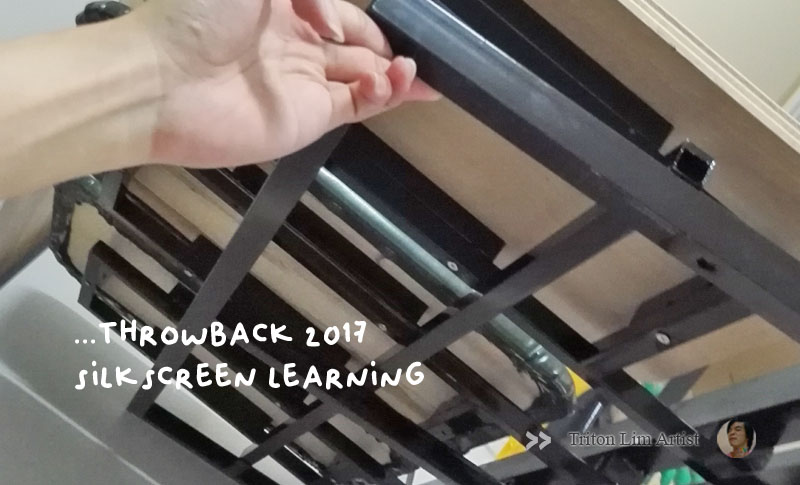 Silkscreen Table I Bought from Sg Buloh
So crazy I am. Travel so far just look for silkscreen table. Who do I suppose to ask for? No one.
The one I found, is from Sungai Buloh. At that time, I was thinking this should be fine. Let's get it a try. After few time testing, problem occurred. It's totally not steady. And printed out t-shirt, you will find out that vertical line, is not vertical line. It's look fine at silkscreen table, but when you pull out t-shirt and have a look. Oh my god, totally spoiled everything.
It's look portable, but end up useless.
Experience searching ScreenPrint Material Malaysia
Majority seller/supplier, are from non art/silkscreen background. They only doing sell. Other than that, they don't know. It was helpless they can't answer your questions.
When you are in this kind of situation, you only give a try.
Overall, I almost hopeless, all the way finding and searching silkscreen material in KL Selangor, Malaysia here.
Testing up the silkscreen table.
那时课程完毕后,我就有询问绢印桌子哪里可以找得到适合初学者用的。拨了个电话去,反而被喷了一张脸。懵去了。对方就像醉酒驾驶般,说话都不听你的,还被喷。感觉真的很辛酸,难道我这条绢印路上就这样完了?
在本地马来西亚,是很难找到一个像话的绢印桌子的。
想象5年前,Malaysia Google Search虽然不错了,只可惜很多商家还是很传统,所以很多东西依然找不到的。我找到半死,去到Rawang, Sg Buloh等地区,只为了见证器材是否可以使用。天啊,多么的遥远啊!
绢印这条路太多太多未知数。每次挫折,我只好自己啃。很多时候很辛苦。不懂可以向谁请教找帮忙。